Strategize and then Design
The user interface (UI) of any web based application plays a huge role in its success. More importantly, the UI is the face of any application for users. When any user uses the application, he/she expects it to help them do correct things, make them smarter and complete their tasks in an easier nammer. The functionality of the application is communicated by the UI to the users. A professionally designed Interface will always play a vital role in the overall user experience (UX), making your application intuitive and easy to use.
Many companies, small, medium or large, at times do not have the skills in-house to achieve the UI design quality they want. VDezine will help you create a web application which is functional and of high-quality. Vdezine is an innovative company with a design and development experience of it's team running into decades. We specialize in graphical user interface design and web based development, and we work hard to build customized solutions for our clients which are THE best for their particular needs.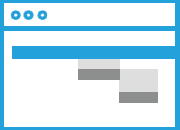 Attractive Framework
We design our website in such a way that all components can be easily integrated into new pages. They are developed in the same style allowing our clients to handle and create new and alternative solutions.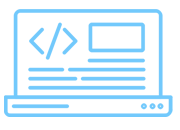 Front-End Code Development
We strictly follow current coding standards, which enables easy integration and development of efficient back-end systems.
Integration Support
We provide and facilitate technical support and assistance during back-end integration process.